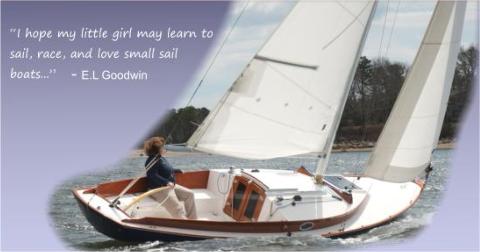 Sailing by E.L. Goodwin
When the day at the office has been particularly tough, I phone my wife to pack a picnic supper and we take the family and go sailing. The quietness of an evening sail, the fresh salt air, and the pleasure of getting our power of locomotion from even a gentle evening breeze all help to smooth out the day's troubles and prepare me for a real restful sleep.
I want my children to learn to sail boats just as soon as they become reasonably proficient at swimming. I see in my mind much clearer than I can convey in words, a group of boys and girls, eight to ten years of age, sailing a class of small centerboard boats with all the assurance of an adult driving his car. On the water as a group they are safe and learning to make decisions and to abide by them. They are gaining in balance and poise and will walk better, be surer on their feet.
If properly instructed in racing, the children will develop a set of rules that will do them very well if applied not only in racing, but to most all of the problems of living with other people. A lot of time and good brains have been spent to develop the "No Barging" rule, and I find in my associations with adults that many of them, unfortunately, have never learned the "No Barging" rule.
Yes, I want my children to learn to take orders, and later give them. They will learn the importance of carrying out orders with dispatch and not "in due time". They will learn to take orders, not only from adults, but from equals, and from those not their equals, all of which is good. They will learn patience in calm fluky days when they have to hunt wind and move the boat almost with their own determination, to be the first of the fleet to catch a freshening breeze, they will learn the joy of battling a storm, they will learn to decide whether to reef or carry full sail, and the consequences; which will be more emphatic and lasting than anything I could tell them.
They will learn, I hope, the importance of keeping things "ship shape", and how it pays off in the unexpected squalls. They will learn that it is the ability of the skipper that wins races, and that the small pennants representing a first place are not bought with dollars.
Sailing is a family sport that can be enjoyed by young and old together, so I hope my little girl may learn to sail, race, and love small sail boats as real insurance against becoming a "sail boat widow".
- E. L. Goodwin